Purchase Now on Apos!
The Modern Mechanical Keyboard
The WhiteFox Eclipse by Alpaca Keyboards is the next evolution of the popular WhiteFox Mechanical Keyboard, including a new compact layout, custom magnetic gasket mounting, QMK/VIA programmability, and multi-device Bluetooth.
Check out the quickstart guide & manual here:
https://alpacakeyboards.com/whitefox-eclipse-manual/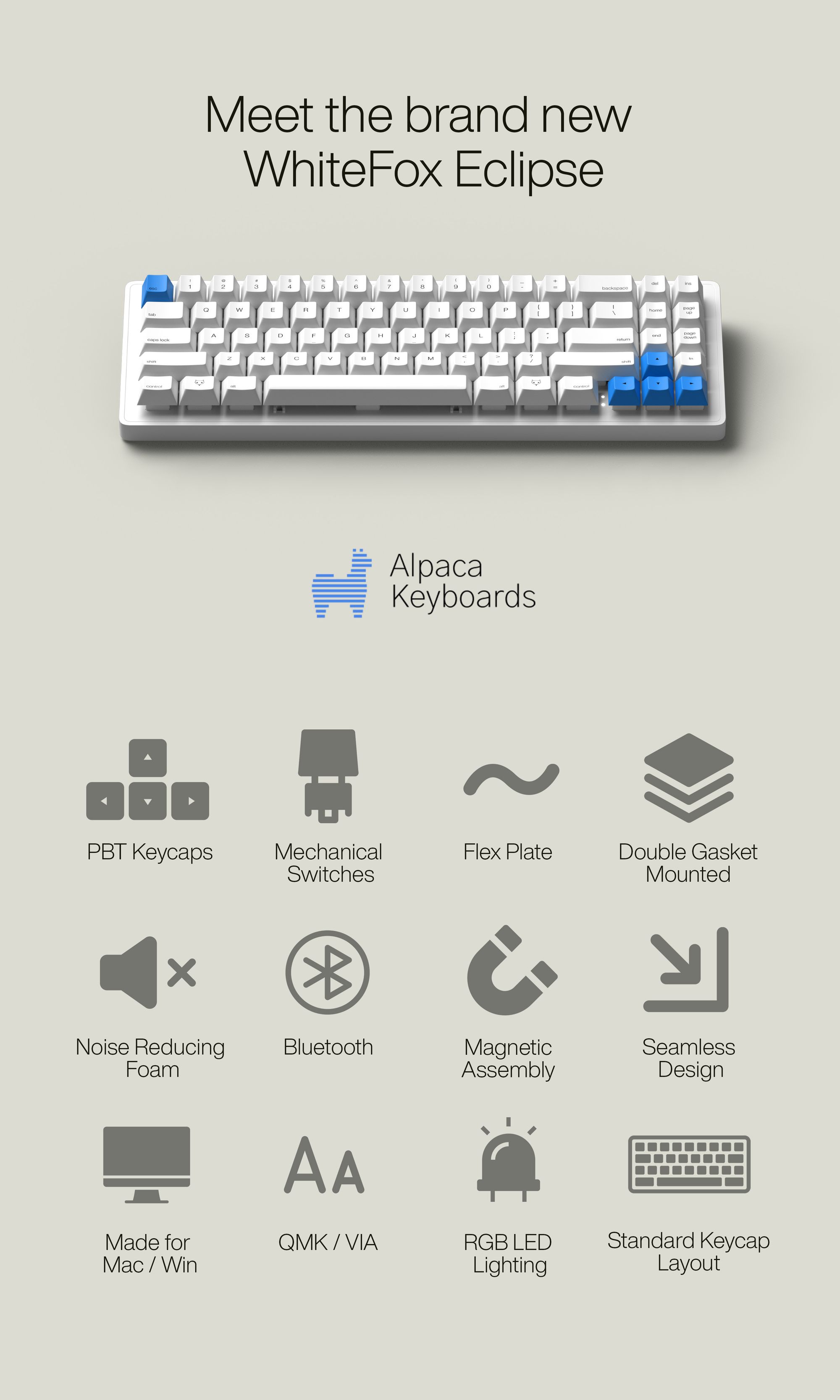 The feature list on this keyboard is extensive, it surpasses everything on the market today.
PBT Keycaps
Description: The Cherry Profile PBT keycaps on the WhiteFox Eclipse are designed with durability in mind.
Details: Resistant to fading and wear.
Mechanical Switches
Description: Preferred for their durability, tactile feedback, customization options, accuracy, and aesthetics.
Details: Popular for gamers and typists.
Flex Plate
Description: Flexible plate with relief cuts to distribute force evenly.
Details: Improves stability of the switches.
Double Gasket Mounted
Description: First keyboard with standard and magnetic gaskets for a softer feel when typing.
Details: Comfortable for extended use.
Noise Reducing Foam
Description: Two layers of foam to absorb sound from the switches.
Details: Quieter for shared workspaces.
Bluetooth
Description: Wireless functionality for any workspace.
Details: Ultimate minimalist experience.
Magnetic Assembly
Description: Features Magnetic Gaskets and removable magnetic feet.
Details: Choose between flat lay or tilt.
QMK / VIA
Description: QMK firmware for total keyboard control.
Details: Remap keys, create layers, macros.
Made for Mac / Win
Description: Designed to be compatible with both Mac and Windows.
Details: Seamless integration with both OS.
Seamless Design
Description: A clean, uninterrupted design for a streamlined appearance.
Details: Enhances aesthetic appeal of workspace.
RGB LED Lighting
Description: Customizable RGB LED lighting for personalization.
Details: Wide range of colors and effects.
Standard Keycap Layout
Description: Traditional keyboard layout in standard QWERTY configuration.
Details: Fits any keycap set.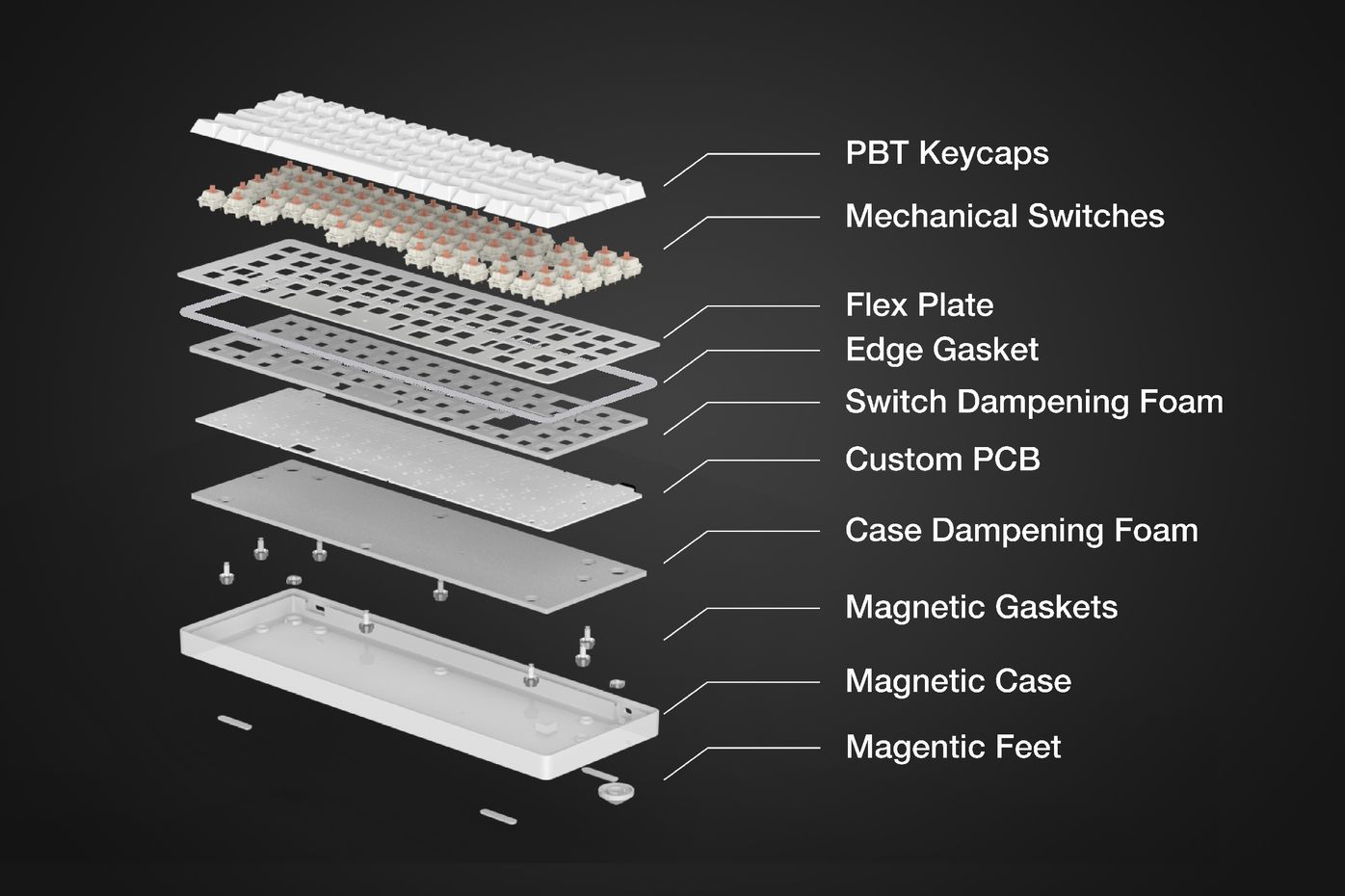 Enthusiast-Grade Features
The WhiteFox Eclipse is the perfect keyboard for the modern keyboard enthusiast. It combines the iconic style and classic design of the original with optimal state of the art keyboard features. In addition to the features above, the WhiteFox Eclipse also has the following enthusiast features:
Hot Swap Switch Sockets
South Facing LEDs
Screw-in Stabilizers
Mac, Windows, and Linux Compatible
Standard Keycap Layout for Maximum Keycap Coverage
USB-C Connector
Blue Novelty Keycaps (Esc, Arrow Keys)
Mac Keycaps Included (Command, Option)
Product Images